KANAVAPE CBD 10ML E-LIQUID BOTTLE - (5%) STRAWBERRY DIESEL

-

KANAVAPE

-

KANAVAPE CBD 10ML E-LIQUID BOTTLE –(5%) STRAWBERRY...

- Product GTIN :

2112345678030 -

Product Ref :

KV000004

- Category :

CBD VAPE

- Price :

8.22

€ - Stock : In Stock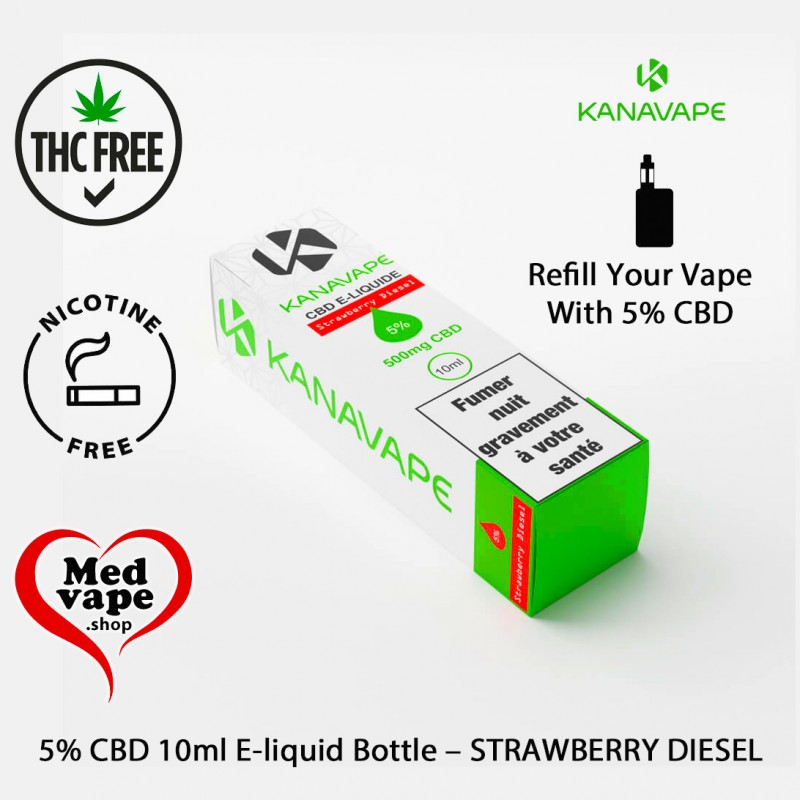  
KANAVAPE CBD 10ML E-LIQUID BOTTLE - (5%) STRAWBERRY DIESEL
KANAVAPE CBD 10ML E-LIQUID BOTTLE –(5%) STRAWBERRY DIESEL
Discover KanaVape's unique e-liquid vaping flavor of the sweet strawberry aroma gentle  heavy, diesel cbd.
Taste: Fruity strawberry scent while providing a thick, diesel-like taste.
Product Features:
500mg CBD (5%)
NO THC
NO Vitamine E
10 ml
NO Nicotine
KANAVAPE CBD 10ML E-LIQUID BOTTLE –(5%) STRAWBERRY DIESEL
Ingredients:
KanaVape 10ml E-liquid bottle 5% CBD are mixed with plant based PG/VG made in France (at ratio of 70%/30%), infused with natural terpenes.
About our CBD e-Liquid bottles:
All KanaVape CBD e-liquids are made using a vegetable derived e-liquid base of PG / VG mixed in with broad spectrum CBD derived from hemp distillate and natural terpenes sourced from their favourite cannabis strains.
Due to the delicious natural terpenes used, all flavours are perfectly blended with a lovely herbaceous finish.
Each KanaVape CBD e-liquid flavours available in vape cartridges can also be bought in a 10ml bottle for those who want to refill an existing tank or device CBD e-liquids are 5% CBD.
CBD e-liquid Dosage:
To understand how much you're vaping per puff, you'll have to do a little math!
Each of KanaVape's 5% CBD terpene e-liquid bottles is 10ml and contains 500mg of CBD.
If you are filling the volumes below, the CBD content will be as follows:
1ml = 50mg
2ml =100mg
3ml = 150mg
The CBD content when inhaling will depend entirely on your device and vaping style – we are all different, so you may find yourself inhaling much more heavily than someone else! What you need to do is work out roughly how many vapes are in your vaping cartridge or tank.
There are roughly 200-300 puffs in our 1ml vape cartridge, depending on the strength of your inhale. The voltage on your vape battery (obviously the lower the voltage, the more puffs you get). 
This gives you roughly 0.5-1mg of CBD per puff.
KanaVape CBD e-liquid vape cartridges are manufactured in compliance with the European Tobacco Directive on Herbal Vaping product nicotine Free to ensure premium high-quality product delivery.
Safety Advice:
This product does not contain nicotine, is only for use and purchases over 18 years old. 
Do not drink this product. It is not traditional CBD oil from a tincture – it is made for vaping.
If you are under 18, pregnant, breastfeeding, suffering from a medical condition, taking medication or have any known allergies please consult your doctor before use.
Keep out of reach of children.
This is not a food supplement and it is not intended to prevent or cure any diseases.
Do not exceed 70 mg CBD per day.
How to refill you Vape Cartridges?
Below are the instructions for how to fill up your vape cartridges using our 5% or 10% CBD e-liquids bottles:
Unscrew the white mouthpiece from the cartridge.
Using a syringe or fine-tipped vial, fill the reservoir up to 1 mm below the top of the glass.
Within a couple of seconds of filling the cartridge, screw the lid back on, although remember not to over tighten!
Turn the cartridge upside down and leave in this position for a couple of hours, this will reduce the risk of leaking.
Do not refill vape cartridges more than three times as this increases the likelihood of leakage.
Please do not use these refills to vape nicotine products.
Customers who bought this product also bought: