OG KUSH 85% CBD CRUMBLE - GOLDEN BUDS

-

GOLDEN BUDS

-

OG KUSH 85% CBD CRUMBLE Composition: CBD > 800mg, THC...

- Product GTIN :

8594200350482 -

Product Ref :

GB0000014

- Category :

GOLDEN BUDS

- Price :

18.97

€ - Stock : In Stock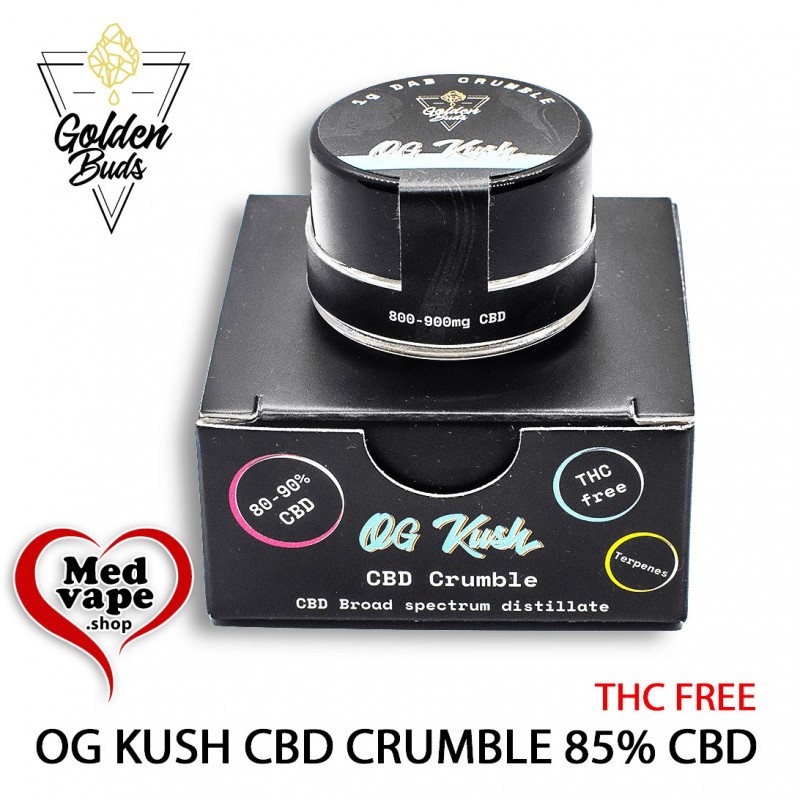  
OG KUSH 85% CBD CRUMBLE - GOLDEN BUDS
OG KUSH 85% CBD CRUMBLE
Composition:
CBD > 800mg, THC <0,2% full natural terpenes.
Natural terpenes with strain flavor OG Kush.
OG KUSH 85% CBD CRUMBLE
The Golden Buds CBD Crumble is perfect for connoisseurs who want a strong taste and a high content in CBD with an amazing terpenes blend.
Golden Buds handcrafted artisanal techniques to create small batches made in order to guarantee premium high-quality products to offer fresh and strong flavors for an amazing tasting experience intense in terpenes.
Each lot is made of fresh and infused cannabis blend terpenes, from the earthly Kushy to the sweet mandarins Tangie flavor.
CBD content is between 80% and 90% (~ 900mg CBD), THC<0,2% with 1g of Crumble content in glass.
Golden Buds CBD crumbles have the highest concentration of the active substance.
It contains cannabis terpenes flavors, which give a deep pungent smell of well know the Californian legends.
This CBD crumble is made of premium CBD distillate extract that is obtained from an organic hemp blend with natural terpenes.
The Golden Buds crumble with passionately selected aroma, provides a unique taste and aromatic feeling in the heart of the terpology concept of smell senses, providing the "Entourage effect" this product is of perfect quality, tested and certified by independent laboratories.
Free of heavy metals, pesticides and other contaminants.
How to Use Golden Buds CBD crumble?
Perfect for direct inhalation using a vaporizer or a dabber, as well as a supplement to any herbs blend, or mixtures on another medium.
Put the correct amount in an inhalation device with or without the addition of herbs, evaporate at a temperature of 200-230 * C. Alternatively, use as an additive in mixtures with herbs or electronic vaporizers.
Customers who bought this product also bought: