CBD FLOWER TANGIE 2g - GOLDEN BUDS

-

GOLDEN BUDS

-

CBD FLOWER TANGIE 2g - GOLDEN BUDS Introducing the...

- Product GTIN :

8594200350710 -

Product Ref :

GB0000044

- Category :

GOLDEN BUDS

- Price :

18.97

€ - Stock : In Stock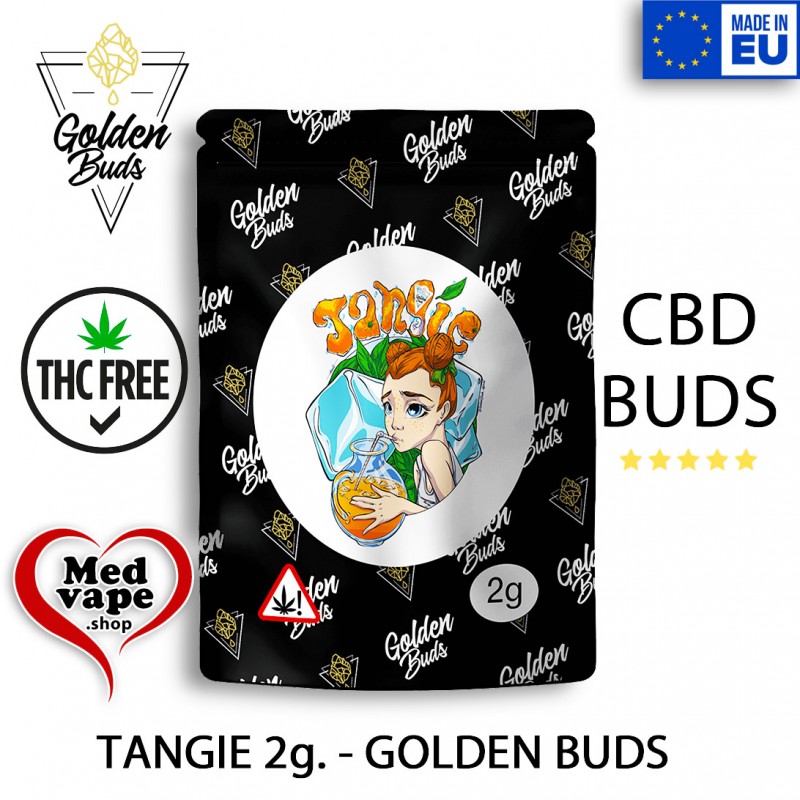  
CBD FLOWER TANGIE 2g - GOLDEN BUDS
CBD FLOWER TANGIE 2g - GOLDEN BUDS
Introducing the captivating Tangie strain, a creation by DNA Genetics through the fusion of Californian Orange and Skunk genetics. With its enticing orange agrume flavor, this strain boasts an irresistible aroma that's simply irresistible. 
CBD FLOWER TANGIE 2g - GOLDEN BUDS
The Tangie strain was breed by DNA genetic from a Californian Orange and a Skunk. 
Its flavor and terpenes profile has a dominant fruity taste, made for the lovers of the Tangie strain.
Sweet orange flavory  with a herbal note makes, its aroma irresistible notes.
Product Details:
Type:
CBD Flowers
Weight:
Available in 2g
Crafted from 100% dried Cannabis Sativa L. hemp flowers.
Important Details:
Contains less than 0.3% THC; non-psychoactive.
Premium CBD hemp flowers, naturally grown.
Rigorously tested by 3rd party labs.
Premium Cultivation in the EU.
Non-GMO, free from harmful pesticides or herbicides.
What are CBD flowers?
CBD hemp flowers are the result of carefully cultivated cannabis plants with high CBD and low THC content. These flowers, typically derived from the Cannabis Sativa strain, are renowned for their CBD-rich properties, making them a popular choice among enthusiasts.
Please note that our products are not intended to diagnose, treat, cure, or prevent any disease. The information provided here is not a substitute for advice from healthcare professionals. Medvape adheres to approved health claims by EFSA and recommends consulting with healthcare professionals, especially for pregnant, nursing, chronically ill, or elderly individuals. Visitors and purchasers must be 18 years or older.
Experience discreet shipping directly to your doorstep within 24 hours with DHL Express! Elevate your senses with OG Kush CBD Flowers today.
Notice:
This products complies with Act No. 167/1998 §5.
Intended for the following purposes; industrial, technical and horticultural purposes.
Not intended for direct consumption or smoking.
This products is only for sale to persons over the age of 18 years.
These hemp-derived extracts here are 100% Completely derived from legal hemp.
Collectors Item Only
Customers who bought this product also bought: