H4CBD (96%) MANGO KUSH 2ml. CORE JOY JUICE

-

H4CBD

-

H4CBD (96%) MANGO KUSH 2ML. CORE JOY JUICE Mango Kush for...

- Product GTIN :

3800236000501 -

Product Ref :

H4CBD-MANGO-2ML

- Category :

H4CBD VAPE

- Price :

41.28

€ - Stock : In Stock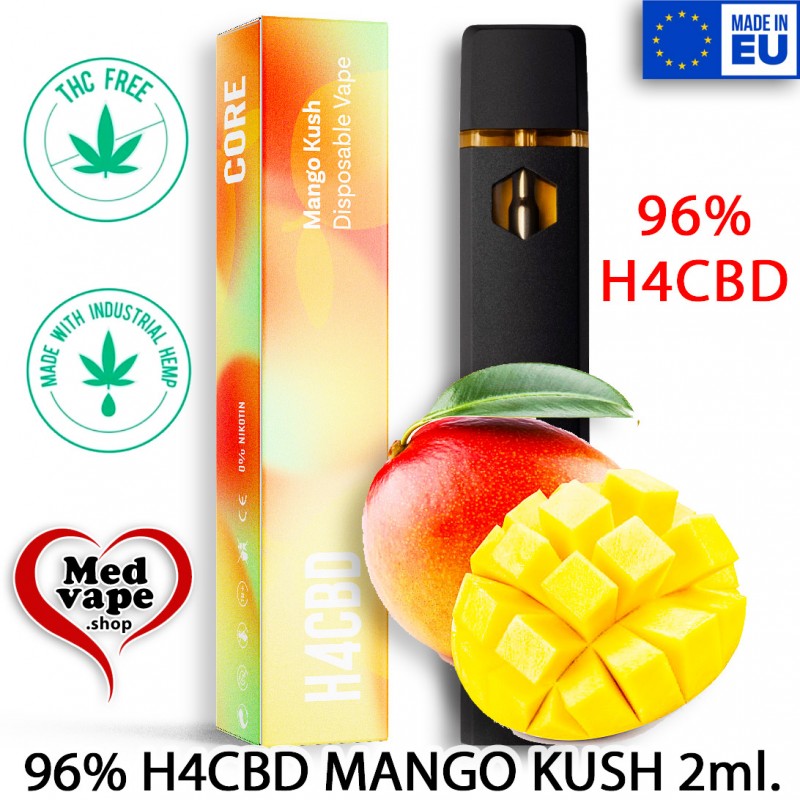  
H4CBD (96%) MANGO KUSH 2ml. CORE JOY JUICE
H4CBD (96%) MANGO KUSH 2ML. CORE JOY JUICE
Mango Kush for the lovers of the mango strains
Made in the EU according to the highest quality standards, the Core - Joy Juice H4CBD 2ml.Premium 2ml with 400 puffs.
THC-free, with the best natural ingredients of pure organic cannabinoids and terpenes, without additives.
Each batch is  tested by independent laboratories to guarantee  0.00% THC with superior quality
H4CBD (96%) MANGO KUSH 2ML. CORE JOY JUICE
H4CBD is a game-changer in the world of wellness. Derived from premium hemp plants, H4CBD offers the potential health benefits of cannabidiol (CBD) without the need for smoking. This carefully crafted H4CBD, contains pure and potent CBD extract that is organically grown. With high bioavailability, H4CBD ensures optimal absorption for quick and effective results. Experience the potential advantages, including relaxation, mood support, and post-workout recovery. Our H4CBD 96% mango kush 2ml is third-party tested for quality purity.
Discover the benefits of pure CBD resin. Mellow Mango disposable vape pharmaceutical-grade H4CBD.
Legal and suitable for both beginners and experienced users. 
Made in the EU
Rechargeable
Nicotine free
THC-free 100% natural
Technical specifications:
CCELL 1ml tank
350mAh battery
Dimensions: 
97.8H x 22.3W x 10.8D (mm)
Compact Design:
Food-Grade
Medical Grade 316L Stainless Steel
Built-in LED indicator
Micro-USB charging
Notice: 
This products complies with Act No. 167/1998 §5.
Intended for the following purposes; industrial, technical and horticultural purposes.
Not intended for direct consumption or smoking.
This products is only for sale to persons over the age of 18 years.
These hemp-derived extracts here are 100% Completely derived from legal hemp.
Collectors Item Only
Customers who bought this product also bought: