30mg CBD CAPSULES (6%) 60pc - ALPHA-CAT

-

ALPHA-CAT

-

6% CBD CAPSULES 60 - ALPHA-CAT 6% CBD Capsules are 100%...

- Product GTIN :

8594200350062 -

Product Ref :

ALC143

- Category :

CBD

- Price :

74.34

€ - Stock : In Stock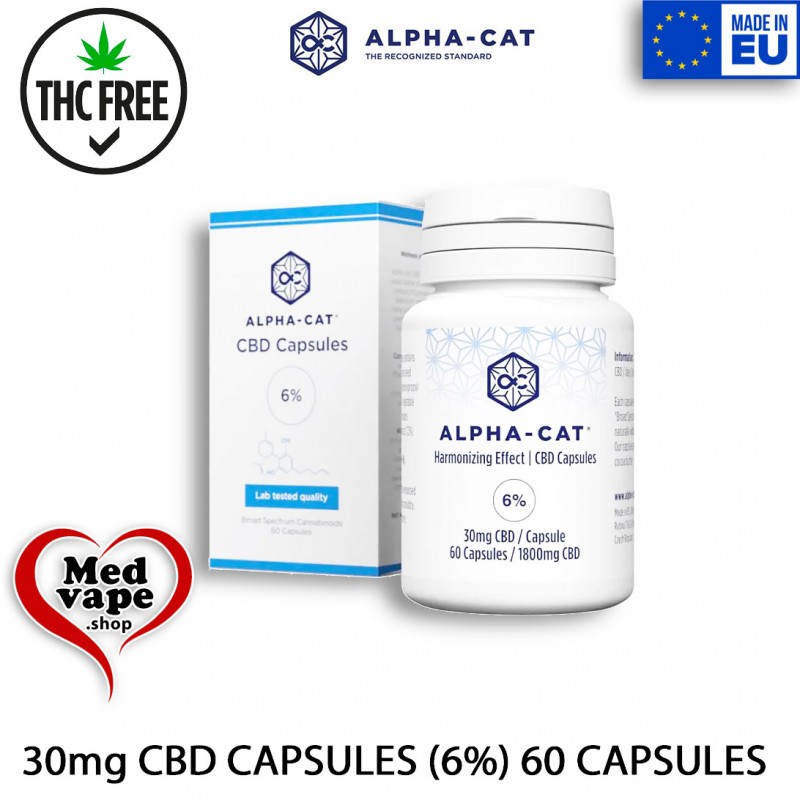  
30mg CBD CAPSULES (6%) 60pc - ALPHA-CAT
6% CBD CAPSULES 60 - ALPHA-CAT
6% CBD Capsules are 100% organic made and vegan certified,each capsule contains 30mg of high-quality CBD.
30mg CBD Capsules are 100% organic made with bio-organic hemp and certified vegan organic ingredients.
6% CBD CAPSULES 60 - ALPHA-CAT
30mg CBD (Cannabidiol) capsules are effective to improve food supplement.
6% CBD capsules deliver optimal relaxation and are consequently used to calm irritation of the nervous system.
CBD capsules can be used as a food supplement to a healthy lifestyle, as they contain antioxidants and natural vitamins that contribute to physical and mental well-being.
Long-term use contributes significantly to the normal functioning of the body and to a harmonious state of life.
Our capsules allow the achievement of a clear state of mind, restore interest in leisure time, daily activities and the pleasure joy of living.
They can help to keep you energized and improve your quality of life, CBD is a new natural food supplement obtained from organic hemp.
Each capsule contains antioxidants and so helps you to combat stress and contribute to the proper body's functioning and balance.
Precautions for use:
To be used within the context of a varied and balanced diet and a healthy lifestyle. Keep out of reach of children.
For pregnant and lactating women ask your doctor for advice, This product is not a medical product. 
Store in a cool and dry place, away from light and humidity.
Customers who bought this product also bought: