DAVINCI IQC - SAPPHIRE BLUE

-

DAVINCI

-

DAVINCI IQC - SAPPHIRE BLUE DaVinci promises to build...

- Product GTIN :

812108032100 -

Product Ref :

108622-SAPPHIRE

- Category :

DAVINCI

- Price :

164.42

€ - Stock : In Stock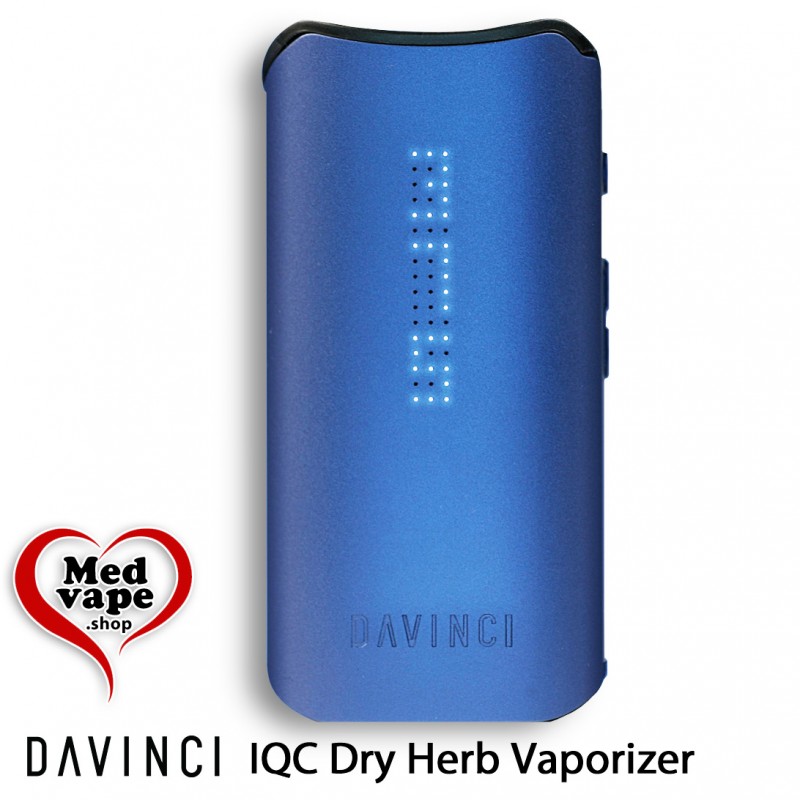  
DAVINCI IQC - SAPPHIRE BLUE
DAVINCI IQC - SAPPHIRE BLUE
DaVinci promises to build with only the cleanest componentry.
No metals or plastics are used in the IQ, perfect sealed zirconia/glass airpath providing purity to the connoisseur.
This dual use device has it all Highlighting Clean First technology
Temperature Control
App Connectivity
Replaceable Battery
USB-C charging
DAVINCI IQC - SAPPHIRE BLUE
This dual use device has it all.
IQC Features:
Type C Charging: Charge in as little as 2 hours. Reverse charging capability powers up your
phone on the go.
Patented Sharesafe Mouthpiece: Crafted from FDA approved antimicrobial polymer, this
design keeps it sanitary.
Precision Temperature Control + Smart Paths: Precision mode for, to the degree control
and smart path mode for an easy to use, guided experience.
Glass Lined Ceramic Oven: DaVinci's alumina ceramic, glass lined oven boasts a + or - 1
degree temperature accuracy.
Removable / Rechargeable Battery: 18650, 3000 Mah battery, up to a 2 hour run time.
Carry extra batteries for those out and about days.
Dual Use: Place dry herb into the oven or load the dosage pods and extract kit for
concentrate use.
Slightly Larger: Due to the extra battery insulation and thicker oven, the IQC is 9% larger and
0.4oz/11g heavier than the original IQ.
Exterior: Featuring a sandblasted aluminum shell, available in four colors: onyx, emerald,
ruby and sapphire.
Bluetooth App Enabled: Unlock more features such as smart path adjustment and device
settings on the Playstore app for Android. Web App for iOS available prior to launch.
Compatible With: Dry Herb and Extracts (Extract kit sold separately)
Capacity: 0.5g Dry Herb Oven, 0.2g Dosage Pod
Heating System: Glass Lined Oven, Heat-not-burn Conduction
Air Path: Airtight, Glass and Zirconia Ceramic
Temperature Control: Smart Paths and Precision Temperature Mode On Device LED Display
and App Control.
Smartphone App: Personalization, Temperature Control, Update Firmware
Shell Material: Sandblasted Aluminum
Size: 1.75 x 3.61 x 0.97 inches / 4.5 x 9.2 x 2.5 cm
Weight: 5.6 oz / 159 g
Heat-up Time: 30 seconds
Battery: Type 18650, 1 Hour Use, Removable/Rechargeable
Charging Time: 2 Hours via USB-C at 2.0 A
Safety: Heavy Metals Tested, No Loose Parts
Warranty: 5 Years
What's in the Box:
1 - IQ-C
1 - 18650 Battery
2 - Stickers
1 - User Manual
1 - 10MM Water Adapter
1 - 10MM Water Adapter Gasket
1 - Extra Pick Tool
3 - Alcohol Wipes
1 - Brush Tool with Plastic Handle
1 - 3ft Braided Type C Charger Cable
Video
Customers who bought this product also bought: